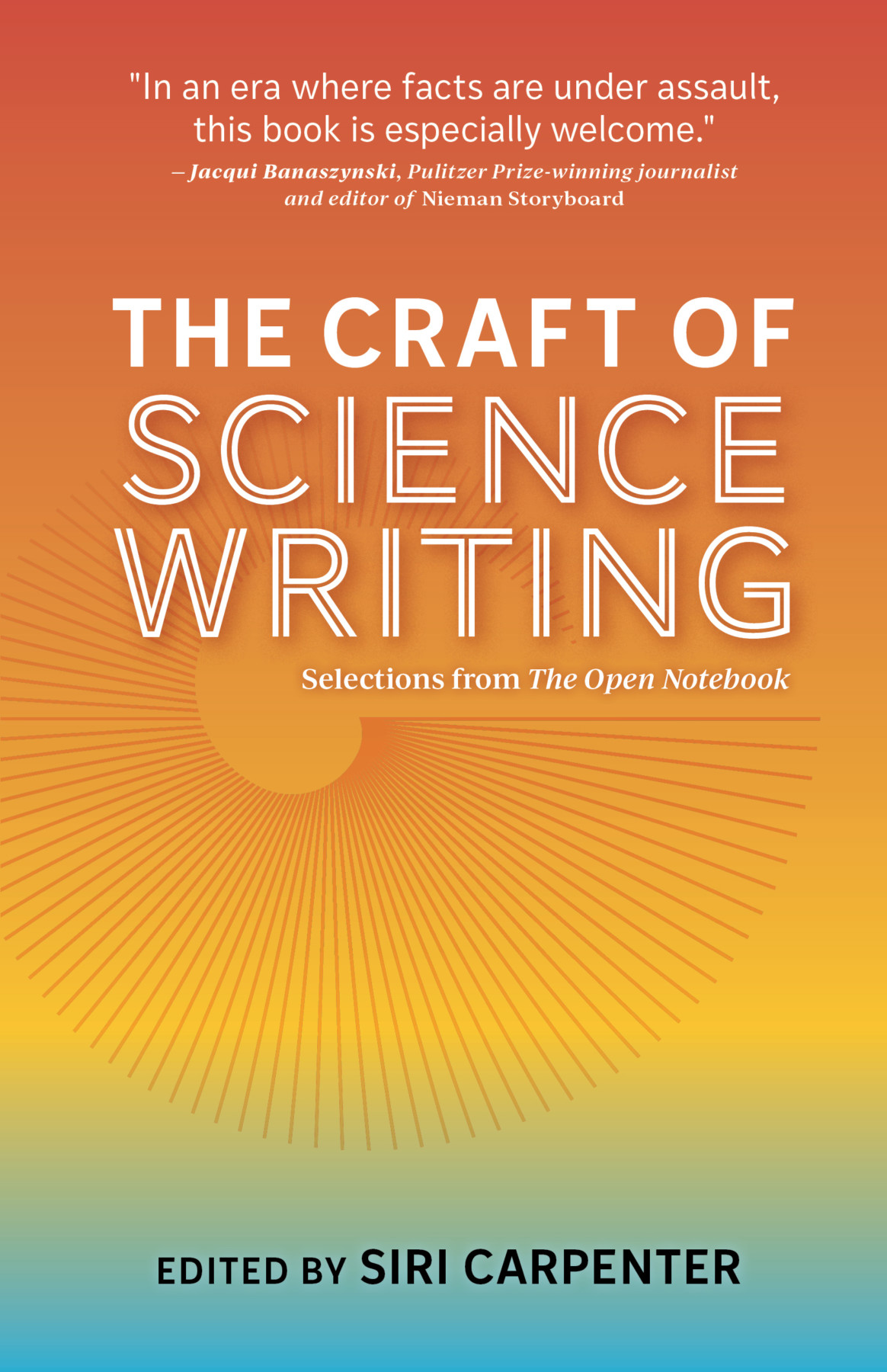 "If I had to strip my go-to shelf of reporting and writing books down to a very few, this one would remain." — Jacqui Banaszynski
The Craft of Science Writing:
Selections from The Open Notebook
"The Craft of Science Writing" is a humble title for a book that holds such a vast store of wisdom between its covers. The Open Notebook (TON), a website and organization founded in 2010, has become a vital resource for practitioners of the craft of science writing and for the field of science journalism—many regard it as the "textbook of science journalism." The Craft of Science Writing, published in 2020, represents a compilation of some of The Open Notebook's most memorable and indispensable articles.
I'm honored to be a contributor to the book, which features a conversation that I had with science journalist Amy Maxmen about the reporting she did for her award-winning National Geographic story, "How the Fight Against Ebola Tested a Culture's Traditions." The Q&A was part of a larger piece called a "Storygram," published by TON in 2017, in which I wrote an introduction, annotated Maxmen's story to dissect and shed light on what made the piece so effective, and then did a Q&A with the author to help readers understand what goes on behind the scenes with this type of field reporting.
The Craft of Science Writing contains wisdom, guidance, and hands-on tools for those who are just getting started in the field, for veteran writers, and for everyone in between. Some highlights include how to move from a topic to a story, how not to pitch, including diverse voices in stories, dealing with impostor syndrome, reporting on risk, how to write a lede, nut graf, and kicker, and much, much more.
The Science Writers' Handbook
I am a proud member of an online community called SciLance, a tribe of sorts composed of 35 members scattered across the United States and Canada. For nearly a decade, we have leaned on one another for insights, moral support, and inspiration for all things having to do with the writing business.
In The Science Writers' Handbook: Everything You Need to Know to Pitch, Publish, and Prosper in the Digital Age, we have packaged the hard-won insights from our combined 300 years of experience into a "truly comprehensive guide to the craft, culture and commerce" of the science writing profession. The Science Writers' Handbook is used widely by instructors of science writing programs and is a valuable resource for both freelancers and staffers. New York University's distinguished Science, Health and Environmental Reporting Program calls it "the book on science journalism."
For two years, we maintained an active blog as a companion to the book. There, you can find an archive of more than 270 blog posts that represent our collective advice, confessions of our day-to-day struggles, insights on parenting with children, and much more.